MILLENNIUM VIEW - GENIUS SECRET CASE STUDY
The nal phase of Coventry council's Millennium Project, The Phoenix initiative, Millennium View dramatically completes the frontage of Millennium Place.
The Phoenix initiative gave birth to much development
of the local area including Priory Place, Millennium Place and the Transport Museum however the final landmark development took over a decade to decide on with several proposals failing to come to fruition.
In 2016 final permissions were granted to Complex Development Projects and Unite Group to develop the site into student accommodation.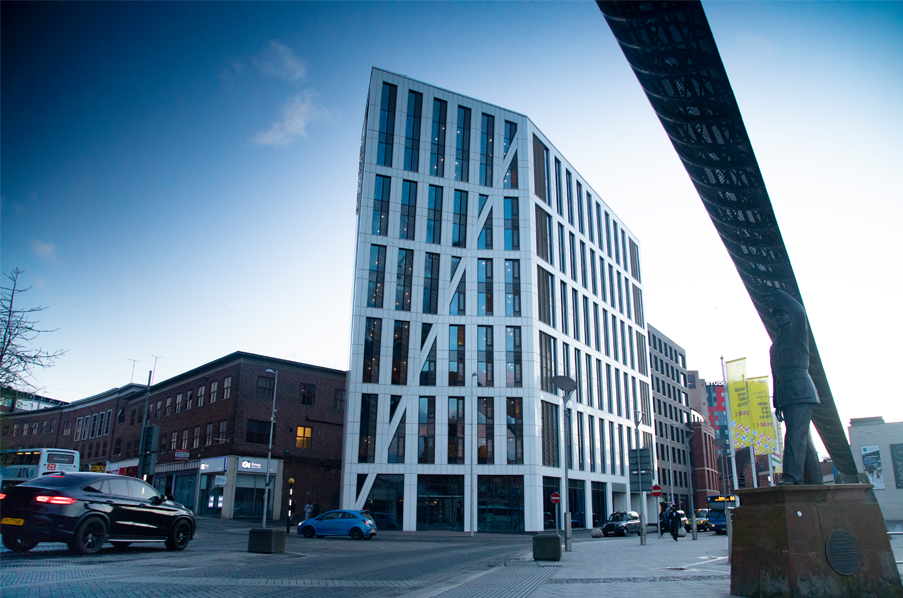 The tallest building of the project was to be a prominent iconic structure that would blend harmoniously with the newly developed Millennium Place whilst also providing a dynamic backdrop to the square.
Genius Secret was the perfect choice for this project as it allowed the architects to create a smooth and continuous facade appearance with the use of fully concealed fixings.
Additionally Genius Secret is certified A1 non- combustible and the simple installation process paired with the low maintenance design allowed for cost savings on the overall project.